Quality Laminate Flooring
Laminate Flooring
Are you considering a change in your flooring? Are you looking for a quality flooring installation that does not hurt your wallet?
You should consider laminate flooring, which continues to be one of the most popular choices alongside engineered wood flooring. It also continues to develop and become even better as we will show you with the new AC6 Range.
Laminate flooring is very hardwearing and can stand up to heavy traffic, making them a great option for those on the go.
Laminate flooring can weather high traffic with minimal damage, and can offer UV resistance. It also does not scratch or discolour as easily as hardwood floors. Also is very affordable and easy installation meaning that the cost of labour is minimal or free when installing yourself, perfect for those with DIY projects or large developments where you have time scales and budgets to meet.
Laminate flooring is a great choice if you want a high-end hardwood look but need something more durable for pets and kids. Laminate is a much better choice against scratches and dents. It is also much more affordable than hardwood or LVT.
Laminate Flooring Lifespan: 20-30 years for high quality with proper installation.
Benefits of AC6 Range:
AC6 rated laminate flooring (12mm Thick) is the highest recognised abrasion criteria rating signifying suitability for very heavy and intensive commercial use.
Dimensional stability – Allows to install a house of 144 m2 with NO profiles (door bars), when the sum of the size of all rooms complies with 12 x 12 m.
3. Kitchens and Bathrooms (domestic use) Due to low swelling HDF – Suitable flooring for the most domestic humid demanding areas. Sealed edges with paraffin to provide an extra barrier. (10 years warranty for domestic use)
4. Lifetime warranty (domestic)
5. 15 years warranty (commercial)
6. Ecolabel Certification (raw materials + manufacturing process) – Ecolabel certifies products with a guaranteed, independently verified low environmental impact. To be awarded the EU Ecolabel, flooring products should meet high environmental standards throughout their entire life cycle: from raw material extraction through production and distribution to disposal. The label also encourages companies to develop innovative products that are durable, easy to repair and recyclable.
7. Carb2 norm – low formaldehyde emission.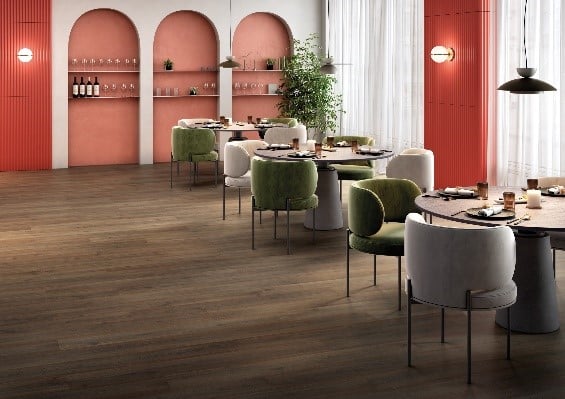 What adds the most value to your property (home)?
Unless your carpet is flawless and brand-new, laminate is likely a better option to get more money for your home. Make sure the laminate floors are in pristine condition and that they're in a versatile or more neutral colour that works with a variety of interiors. So, the more quality the product, the more value you will attain in the property, as everyone can easily recognise a quality laminate or engineered wood floor.
Laminate flooring has come a long way since it was invented. Now, the high quality and inexpensive making it a great value for money, long lasting option.
You have an initial cost that is less than other floors. The easy installation and the fact you can install over flooring reduces labour costs too, which are normally one of the largest costs when installing products like LVT. Especially as with a LVT floor you normally must use latex to ensure the floor is completely flat which adds another £15m2 to the cost of the flooring.
Maintenance costs are also affordable depending on the problem. Replacement is relatively easy, too, especially if flooring installation was done correctly.
While the up-front cost of carpet or LVT might be tempting, over time laminate flooring is cheaper than carpet or LVT. Laminate flooring is made to last and is nearly double the lifespan of an average carpet or LVT. Flooring is considered an investment, as it really becomes a permanent fixture in your home.
Laminate is formed by several bonded layers: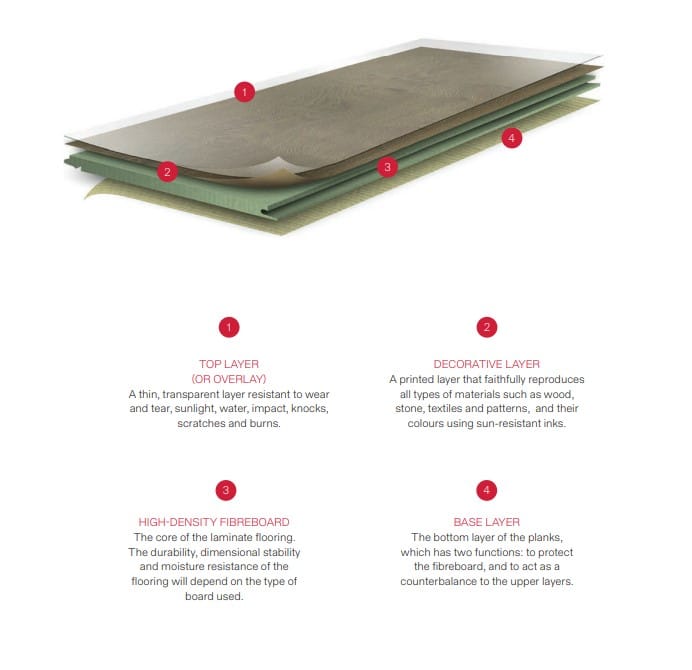 You can install up to 144m² without joints, even in doorways! Our Durable technology flooring is made with low-swelling HDF board (less than 8%) and has a lifetime guarantee in your home.
Laminate flooring is resistant to scratches, stains, and dents. It also offers noise reduction, so it is perfect if you have pets and children. Do not worry about damages, as it is a reliable flooring to the last usage.
You can check the AC rating of the laminate floor to know its durability level. AC1 is the less durable, and AC 6 is the most durable. An AC 5, like this example, or an AC 6 is an excellent rating to pick.
The versatility of laminate flooring continues to improve. Now there are products such as water-resistant laminate flooring available in the AC5 and AC6 range.
It is the perfect flooring for living rooms, bedrooms, hallways, kitchens, and most other rooms! It is not advised in wet rooms as you need to look for safety flooring or tiles where the joints are completely sealed.
Scotia beading covers the gaps around the edges of laminate flooring, and these can be ordered to match your chosen flooring so there is a seamless change.
Easy Installation
Laminate flooring is now very easy to install, so if you like to DIY, now is your chance! Or a professional service will be able to install the floor quickly. It does not need as much acclimation time, compared to other floors.
You can install laminate flooring over most floors, just not carpet. Carpet underlay will be too bouncy for laminate flooring. It can also prevent successful installation and cause an uncomfortable finish.
The flooring installation is different from floor coverings like carpet, where you have carpet grippers and flooring adhesive.
Instead, laminate flooring just snaps together and sits in place as they have a unilin click system which means it can be knocked in from either end resulting in easy installation. You need to take extra care when on surfaces such as screed surfaces, and the floor should be as even as possible.
Be sure to consider a laminate underlay, which can add insulation, and help to an extra level of noise reduction.
You can also consider radiator pipe covers, and scotia beading.
How do you clean laminated floors?
Use a gentle cleanser to spot-clean visibly dirty areas, and always follow up by wiping the area with a dry, absorbent cloth. One simple cleaner that works well with laminate is our bona floor cleaner or Osmo wash and care cleaner.
Is it OK to put laminate flooring in the kitchen or bathroom?
Laminate flooring can be installed in kitchens and bathrooms. However, due to the constant presence of moisture, you need to ensure that your purchase a quality laminate that has sealed edges with paraffin to provide an extra barrier. (AC6 Laminate is suitable for Bathrooms and Kitchens), although we don't recommend installing this flooring in wet rooms, as the joints need to be completely sealed.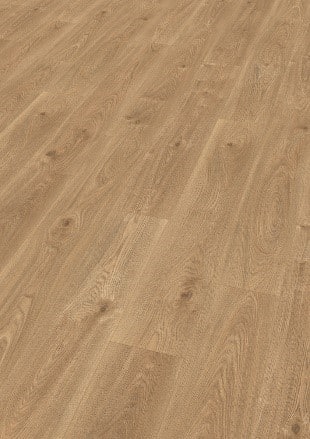 What lasts longer vinyl or laminate?
Laminate also has a longer lifespan and better overall durability than vinyl. As a quality laminate which is 8mm or thicker is more forgiven with uneven floors, whereas a vinyl must be laid on a perfectly even floor, also laminate flooring is thicker making it easier to lay, quieter to walk on and are better to hide small irregularities in the subfloor. We find that most people prefer to lay a 12mm thick laminate in high-traffic areas.
The wear layer of laminate flooring makes its durability one of the best out of all flooring. It depends on the flooring quality, foot traffic, and what products you use to clean the flooring. However, it usually lasts between 15 to 30 years!
The only disadvantage of laminate flooring or LVT is that it cannot be sanded or refinished like an engineered hardwood. If laminate is heavily worn, it must be replaced.
If you get laminate underlay, your flooring is less likely to get damaged. Underlay allows the floor to sit equally so that the laminate flooring can be installed in the best way. We recommend that you must use laminate underlay.
The Health Benefits
It is not often that you can say a flooring offers health benefits, but laminate flooring does!
Around 45% of the UK population has at least one allergy. Allergies are often aggravated by items ina property, such as flooring.
Flooring can harbour dust, pollen, and other allergens. And some flooring like carpet can have chemicals that can cause allergic reactions.
The good news is laminate flooring is not one of these floors! It is one of the best options as it is hypoallergenic. It is easy to clean and does not trap allergens or dust.
It is also resistant to bacteria and mould growth. And for even more peace of mind, you can add allergen and bacterial coatings.
Need Help When Choosing Laminate Flooring?
So, if the benefits of laminate flooring appeal to you, then it is time to Order Your Free Samples Now!
It is important to with a company that is reputable and offers quality laminate that you can trust.
At Oakley Products, we offer a range of quality laminate flooring and other options. We are a leading UK supplier who put our customer needs first. We also have a showroom you can visit or are more than happy to have a chat and discuss the different options that suit your project, so we tailor our samples to your needs. Contact us today to see how we can help with your flooring installation plans!
CALL: 01752 666132
EMAIL: sales@oakleyproductssw.co.uk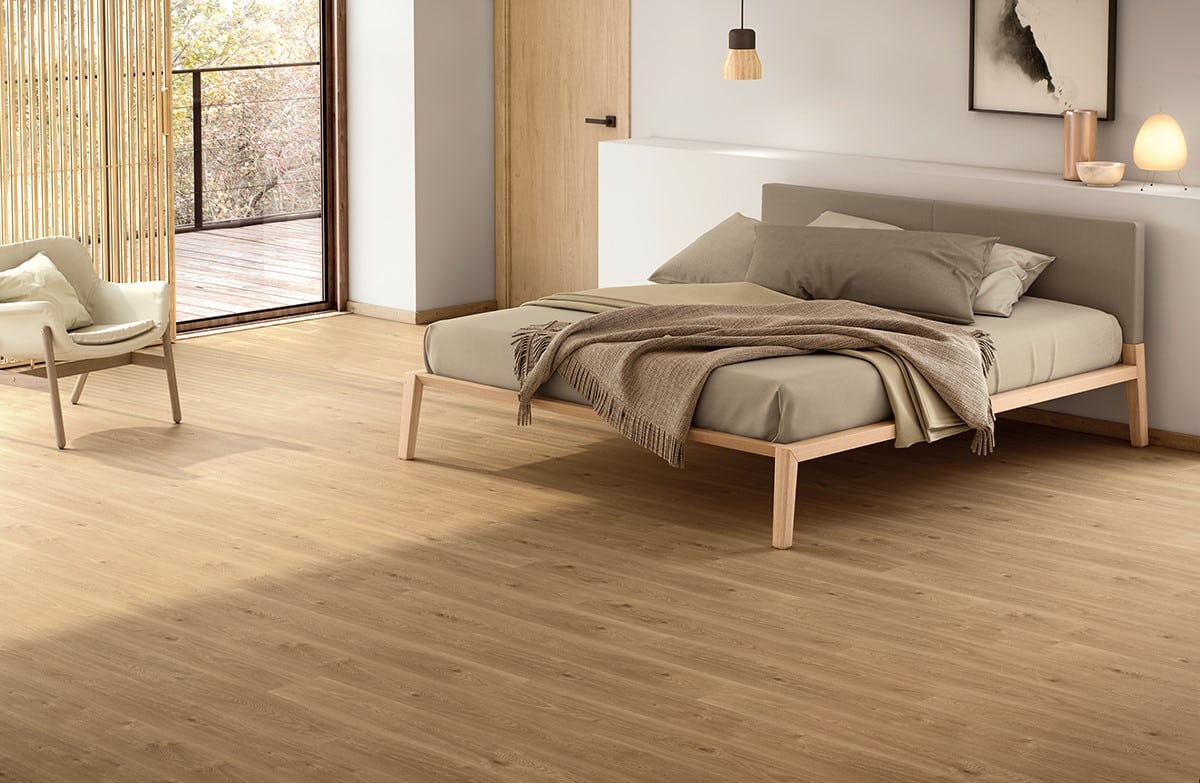 Looking For Our Pricing? Call Us Now  
Fast Shipping
Fast shipping on all orders from UK
Secure Payment
We offer safe shopping guarantee
100% Satisfaction
We have 100% positive feedback from our clients
Telephone Support
We are always on hand for any questions you may have
FREE SAMPLES & TECHNICAL EXPERTISE - NEXT DAY DELIVERY - STOCK RESERVATION AVAILABLE
Inspiration
Examples of our products in live settings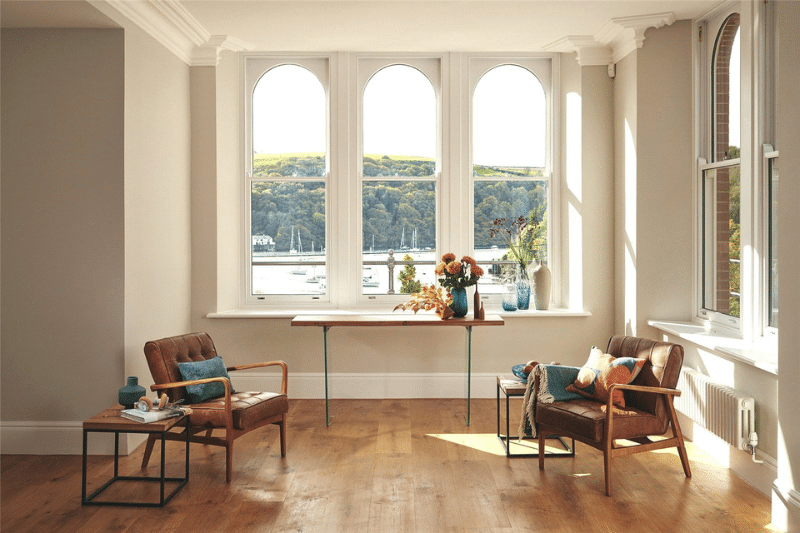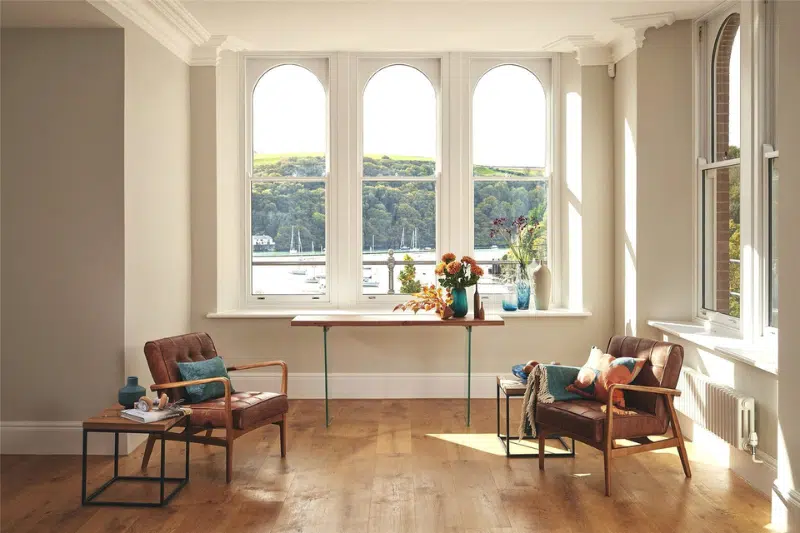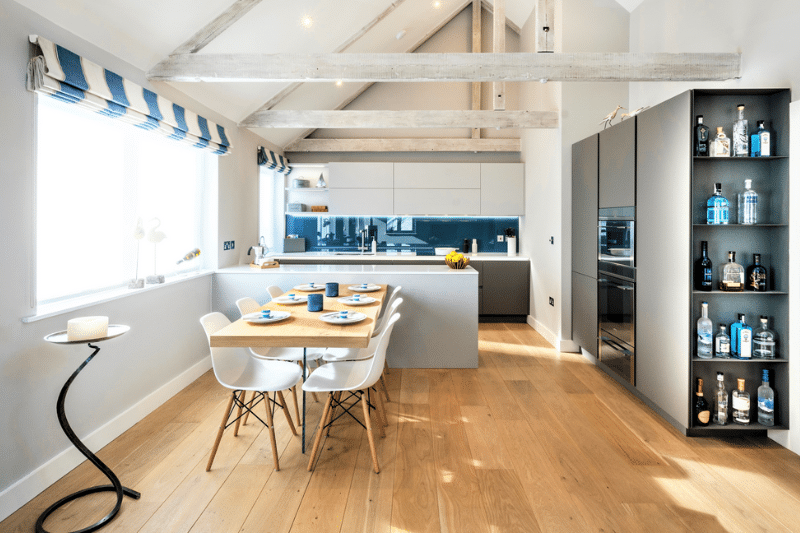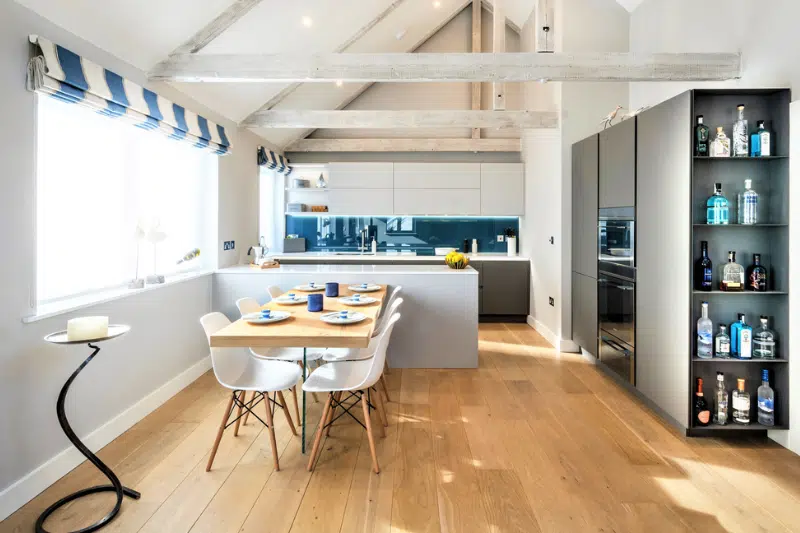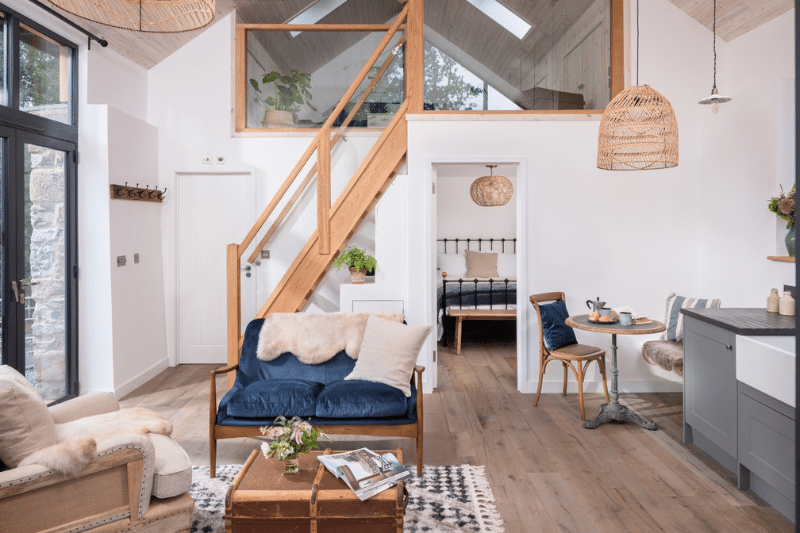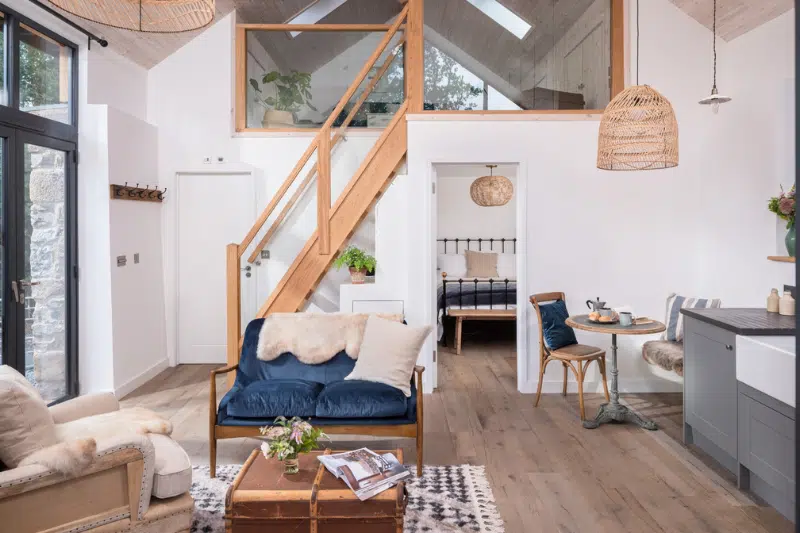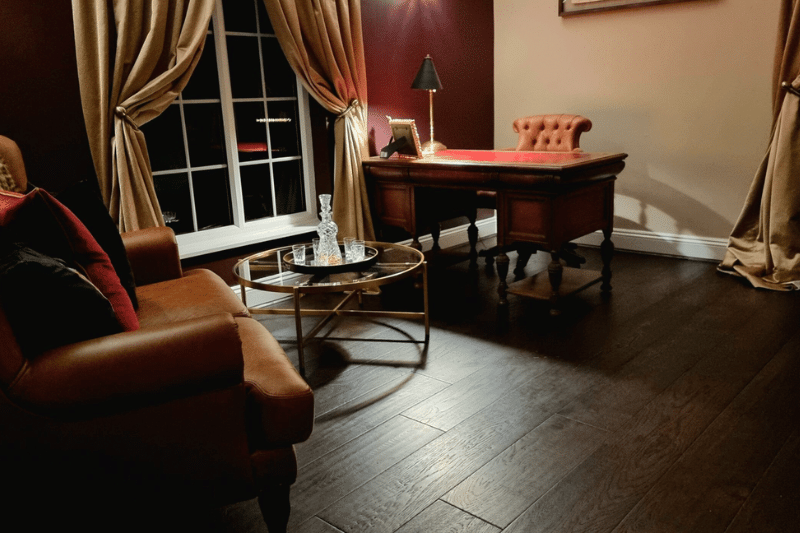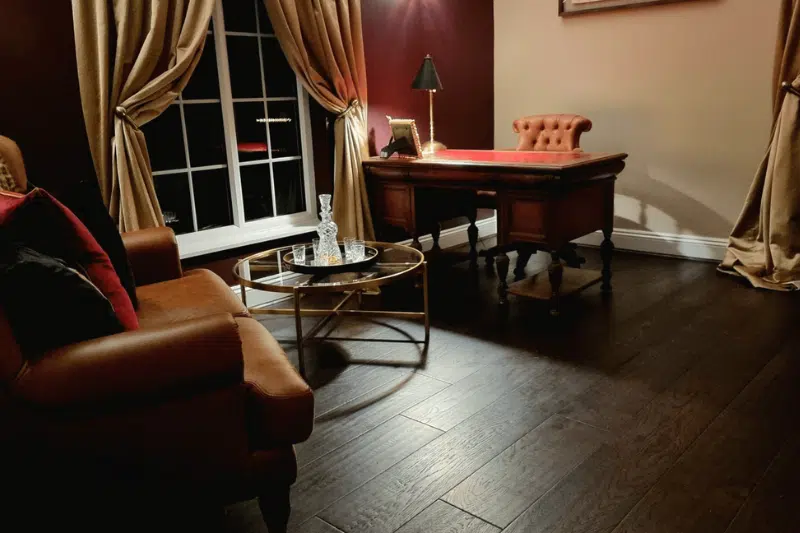 GET IN TOUCH
Have an idea or project then please get in touch...
@

oakleyproducts_woodflooring

Follow us on Instagram